1950s History Program
We so appreciate the Brighton Education Fund grant that was awarded to us! It allowed us to provide two special experiences for our students:
our first graders experienced an interactive assembly created by the expert staff of the Strong National Museum of Play
our second graders enjoyed a field trip to the Strong National Museum of Play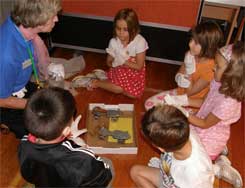 A Strong staffer introduces first graders to 50s-style roller skates
For our first graders, the staff of the Strong Museum brought artifacts of the 1950s to our school. Each class met with the staff and learned about the artifacts and participated in activities that focused on 1957, the year in which Council Rock Primary School opened. The sessions began with a discussion of what the children knew about the 1950's. I heard children mention "Houses were build by families, not contractors." "Buildings leaked." "Everything was hand made." Their ideas showed that they had no real concept of that era. That is understandable given that they are only six years old (and it didn't help that they were also studying Christopher Columbus!) At the end of the presentation though, they had some "ah hahs!" and did indeed understand that the Council Rock building was well-built and the 50s weren't so very long ago.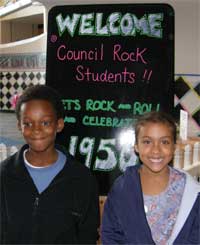 Our second graders are welcomed to Strong National Museum of Play
With the grant we also were able to take the entire second grade class to the Strong National Museum of Play. We had over 200 children and about 50 parents. The staff set up the museum especially for Council Rock 50s day. In the Reading Adventure Zone, the 50's character, Madeline was missing; children followed clues to find her. Outside of the mini-Wegmans, a car hop was set up. Children counted cups and delivered drinks to the children in the cars. Children voted on their favorite 50's toy and invented new things. For the entire day, a staff member taught 50's dances to the children. Multiple other events were planned. It was a wonderful experience and a great culminating activity to our year long study of the 50s.

story and photos by Karen Allen

October 29, 2007