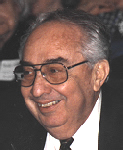 This fund was established in 2001, in memory of Alan Lewis, a man whose personal imprint is on the culture of the Brighton Central School District as deeply as any we know. All of us connected with the Brighton Education Fund feel deeply in Al's debt, and deep sorrow with his passing.
Al Lewis was 21 years old when he began teaching at Brighton High School in 1949 -- not much older than the seniors in his biology class. "I was lucky," Al recalled a few years ago. "I was just out of the University of Rochester, and Brighton happened to need a teacher."
That launched a five-decade relationship with Brighton schools in which Al left an indelible mark. He served the district as a teacher, a guidance counselor, an administrator (vice-principal, director of guidance, director of pupil services, and acting superintendent) and finally -- until his death at 73 -- a member of the Brighton Board of Education. During his years on the Board he served as vice-president and president.
Al's popularity never waned. He joined the school board a year after his 1985 retirement and was continually re-elected, the last time in May of 2001. In 1995, he received Brighton Education Fund's Tribute Award. During the BHS commencement ceremony in 1999, Al was awarded an honorary Brighton High School diploma, in recognition of his 50 years of service to the district.
"Al was the soul of this district," said Bruce Gianniny, a fellow member of the school board. "I think he was responsible for a lot of the strong academic culture that exists in Brighton now."
"The results of his outstanding work here have been a great influence on the children of Brighton and in a very real sense, our children are monuments to Al's life and dreams," said Brighton Superintendent Harv Peris.
Over the years, Brighton has developed a reputation as one of the finest public school districts in the nation. Al always gave credit for that success to Brighton parents and their deep involvement with students and the district. That involvement has been critical, of course ...but no more so than the dedication of people like Al Lewis.
We'll miss you Al.
story includes reporting by Matt Leingang
Democrat and Chronicle


Make a Donation to the Alan L. Lewis Fund
All contributions to the Brighton Education Fund are tax-deductible to the full extent provided by law.
Print a copy of our special donation form and fill in the blanks. Note that this document is in PDF format; you will need Adobe's free Acrobat Reader to view and print it.
Include a check payable to Brighton Education Fund/RACF or your credit card information.
Mail to:
The Brighton Education Fund
c/o Brighton Central Schools
2035 Monroe Avenue
Rochester, NY 14618


Read a Collection of Memories of Al
Click here to read a collection of memories of our dear friend Al, contributed by folks who knew him and loved him: students, teachers, administrators, and parents.
Click here to contribute a memory of your own to the collection.
Or send e-mail to Jim Kane: jim@brightoneducationfund.org

October 28, 2001