Authors' Visits to Council Rock
BEF has funded three authors' visits to Council Rock School: Nancy Carlstrom, Eric Kimmel, and Paul Zelinsky. Each visited Council Rock School to talk about their Caldecott Honor-winning books, to discuss the creative process, and to describe how stories are composed, edited, and illustrated.
One of the rooms in the Council Rock library holds a display of Caldecott books related materials from the library's collection. Randolph Caldecott was a very successful illustrator/author in the latter nineteenth century. This prestigious award honors his contributions.
While the award is based upon the effectiveness and attractiveness of the illustrations in the books, authors select and collaborate with illustrators whose work will extend, complement, and sometimes interpret the author's text. As a result, you may see a great variety in the style and appearance of a well-loved author's books.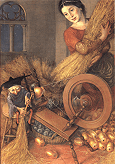 Paul Zelinsky is a very popular illustrator who re-interprets classic stories like the Grimm fairy tales, accompanying them with pictures of outstanding quality -- the illustration shown here comes from his retelling of Rumpelstiltskin. Mr. Zelinsky talked and sketched during his visit. The sketches he left behind are a part of the library's display of Caldecott Honors award-winners.

Other authors come just to share their love of a great story and of the creative process. Eric Kimmel, of Portland, Oregon has won awards for his interpretations and retellings of well-loved tales, enhanced by most attractive illustrations. Visits like these result in the children's writing and illustrating their own books to share.

Nancy Carlstrom's visit was, in part, related to a unit of study. She was inspired to write Northern Lullaby, about the life and culture of the Inuit people, by her family's move to Alaska. Her Council Rock visit followed the performance of an Inuit play, also underwritten by the Brighton Education Fund.

story by Lawrence Root

May 6, 2001