A Trip to Bruegger's Rewards Teacher of the Week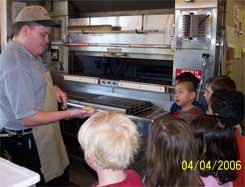 Shaping, boiling, baking ...bagels are a hot and tasty treat!
On Tuesday, April 4th my second grade class traveled to Bruegger's Bagels in Panorama Plaza for a mini-field trip. We were invited to Bruegger's because, on the basis of an essay written by one of my students, I was named "Teacher of the Week" in a contest sponsored by Bruegger's Bagels and the Messenger-Post Newspapers.
While we were at Bruegger's, the children enjoyed a bagel-and-cream-cheese party and socialized with their classmates. They were also given a tour of the facility. On the tour, we all saw how bagels are transformed from frozen dough to the hot, delicious treat we all enjoy. Also, we saw the large freezer where the food is stored and learned what happens at each station (coffee, deli area, etc.) of the facility. Everyone had a super time!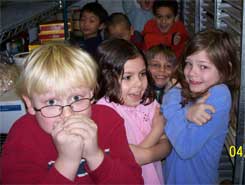 Hey! It's freezing in here!
I applied to the Brighton Education Fund for a grant of $175 to fund the transportation for our trip. I believe that my students benefited from this trip for a couple of reasons. One of our second grade social studies units is on the topic of interdependence. This unit focuses on the goods and services offered within a community. Today, the children experienced first-hand what Bruegger's has to offer our community members. They were given the opportunity to see what its employees do each day to help make its business run smoothly.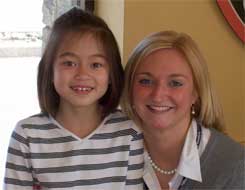 Ms. Klein, with the student who nominated her for the "Teacher of the Week" award.
I believe this trip also demonstrated to my class the idea of self-motivation. The child who wrote the essay did so on her own time for her own reasons. I noticed my other students thanking this child today because if she had not written the essay, our class would not have had this special opportunity. In addition, my students were able to understand that hard work reaps rewards. As a teacher, I work very hard each day to ensure that my students are getting their needs met in addition to receiving the best education possible. I was quite honored when a child chose to write the essay highlighting the work I do. As a result, my class was rewarded with a bagel and cream cheese party in addition to the invitation to tour Bruegger's.
Overall, the children had some new learning experiences and had a great time during our visit. I would like to extend a big thank you to the Brighton Education Fund for helping to make this trip possible and for allowing my second graders the opportunity to experience fun and learning outside of the classroom as well!

story and photos by Melissa Klein
April, 2006