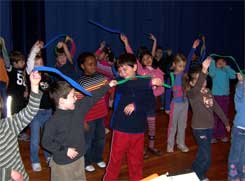 After seeing Dance Asia, we tried our own Streamer Dance.
Gung Hay Fat Choy! The students in Ms. Hutter's first-grade class learned a great deal about Chinese culture and the celebration of the new year.
The classroom was decorated with dragon masks, lanterns, banners and a large dragon. During music class, the students learned a dance that celebrates the Spring Festival. The students learned to count in Chinese, write Chinese numerals, and even did some addition problems.
Ms. Hutter's class ended their study of the Chinese New Year by attending a wonderful performance called Dance Asia, funded by a grant from the Brighton Education Fund. The class saw a lion dance as well as a story about a monkey king. They learned about motions, kicks and songs used in Peking Opera.
The students learned how Chinese audiences show performers that they are enjoying a show, by saying "ho" instead of clapping. The students were mesmerized by the dancing, martial arts and acrobatics.

photo courtesy ArtsPower.org
"It was pretty. They used streamers while dancing."
-- Sachi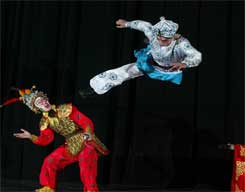 photo courtesy ArtsPower.org
"I loved watching them do backflips across the stage. They were great!"
-- Katie

story and photos by Cathleen Hutter
May, 2006